Maybe you have considered writing under a pen name but you're a little unsure about how you would go about creating and changing your pen name on Amazon. Well here is a quick guide.
Why would you want to write under a pen name?
Seems kind of odd, but there are tons of well-known authors who have decided to use a pseudonym instead of their own name. Even though most authors who do go under a pen name get found out in time. For many it's a great way to:
Stay anonymous
Write in a different genre
Protection for the author
Branding
Important, bear in mind when you create your kdp.amazon.com account you will need to put it under the actual name you have your ITIN or EIN number under. (I will do a post on EIN numbers and Amazon withholding tax in another post )
You don't want to get a check in the mail to Tom Jones. You will have a hard time explaining that one to the bank.
Setting up your pen name
When you go through the process of uploading your book to KDP, you will be asked for your name as the author. This is when you put in your pen name. You already have your KDP account setup under your real name so you will get payments in your real name
Linking it with your Amazon Author Central Account
Now if you have put out a book under your real name you should have a Amazon Author page. If not go get one https://authorcentral.amazon.com/gp/landing Please note your book will need to be live on Amazon before doing so.
Now here is what you do for any NEW pen names that you wish to keep track of but that won't be associated with your real name on the front end of Amazon where buyers get the books.
1. Go to the books tab inside Amazon Author Central and click add more books
2. Search for the book that is under your pen name and click add it
3. You will get a window come up that says you are not listed as the author. See below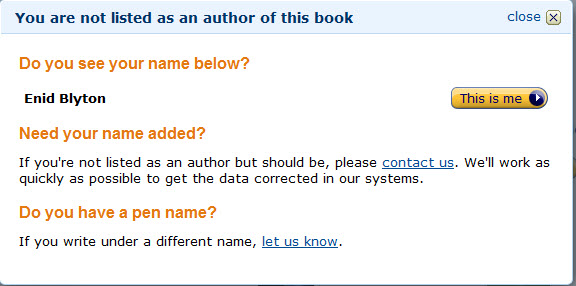 4. Under do you have a pen name? Just click on let us know. An email will go over to Amazon they will then require you to verify by sending a email back and once you click the confirmation link you will be all setup
Changing to your new pen name
Next all you do is switch to your new pen name from within your account. Just at the very top right hand corner you will see your name with an arrow. Click that and your new pen name will be there.
Related Posts via Taxonomies